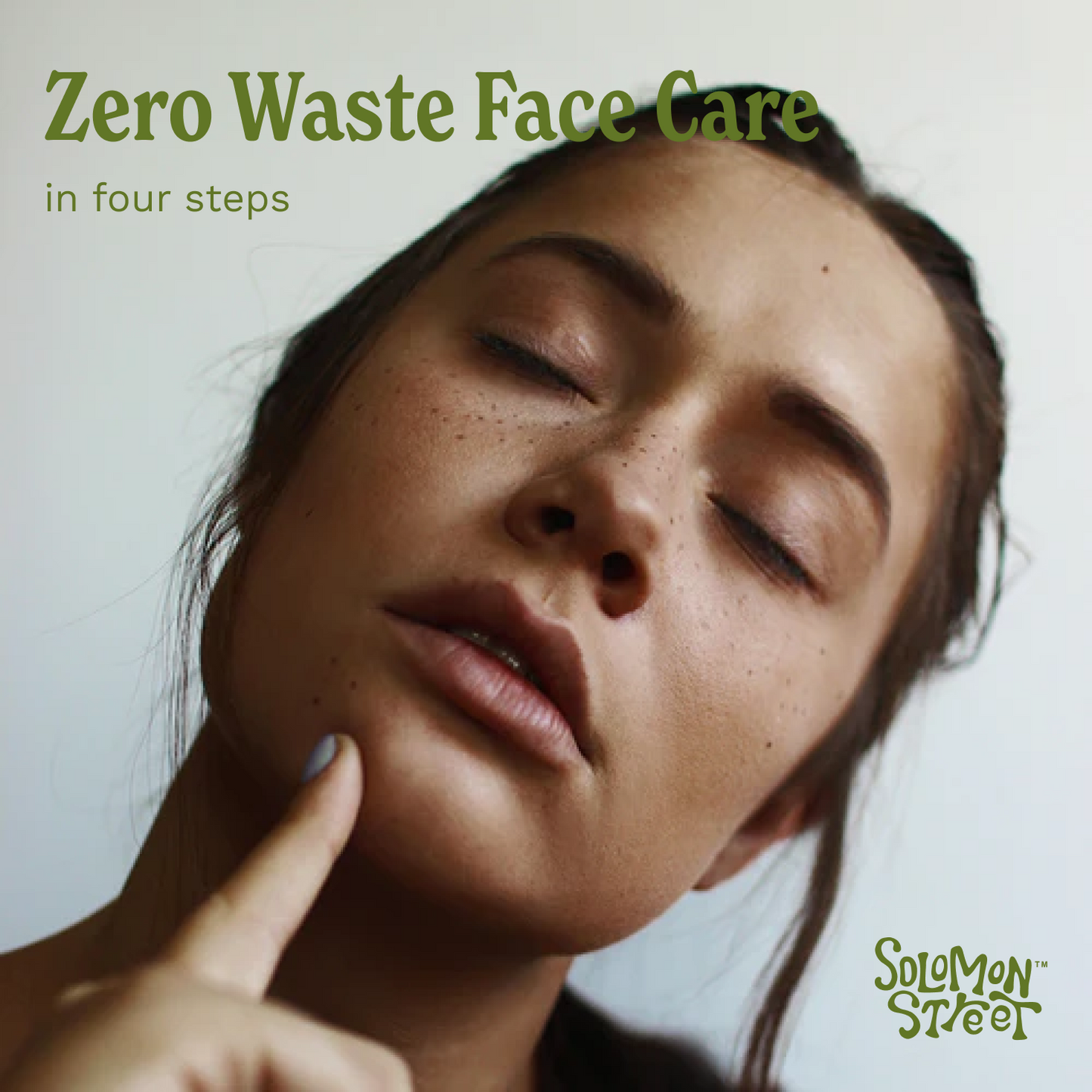 4 Steps to Zero Waste Face Care
In my relatively short 
minimal
 waste journey, there have been many small challenges, many very easy changes, and a few big hurdles that I've really struggled with. One of the biggest has been getting my 
skin-
care routine in order.
I now follow four steps, day and night, that with 
other aspects of my life have slowly become zero waste.
In my relatively short minimal waste journey, there have been many small challenges, many very easy changes, and a few big hurdles that I've really struggled with. One of the biggest has been getting my skin-care routine in order. I now follow four steps day and night that with other aspects of my life have slowly become zero waste. However, I have been lucky enough to even through my teen years, only have a mild amount of spotting on my face. I have no doubt has made this potentially seemingly impossible challenge, possible. I must emphasise that everyones journey is different and every body will require different products and steps to be the healthiest it can. These products and steps are what works for my body and if you are really struggling, I urge you to speak to a zero waste skincare professional such as Tina from OmMade who can tailor a routine for you depending on your skin type.
1. cleanse:
To cleanse I use the Black Beauty Face Soap bar from Reviresco ($7.99), an Adelaide Soap business that don't use any Palm Oil in their products. The soap features ground olive stone for exfoliation, which if too coarse I lather with my hands and use them to apply the soap. At a slightly higher price point than your standard bar soap, this bathroom staple is a solid block and will last a very long time. (*Hot tip* check out their pet soap bars for your zero waste pupperino!)
imaged sourced from reviresconaturalsoap.bigcartel.com
2. tone:
TONER. I don't know if this actually does anything, but does anyone? (like I mentioned above, speak to a skincare professional if you want to know details!) websites claim that it balances out PH levels.. but is this necessary on your face? I dont know.. not a scientist! (If you ARE a scientist, let me know so I can update this!) BUT it makes my face feel soft and seems to stop my face going all tight and dry after cleansing, plus it smells good and feels nice :) I make my own... 1:1 ratio of apple cider vinegar preferably with mother, and filtered water.I also add some of that good ol' rose geranium essential oil. I store mine in a glass spray bottle that I buy from, you guessed it, the Honey Shoppe. I buy the vinegar in bulk from House of Health in the Adelaide Central Market, The Source, or from any bulk food store.
3. moisturise:
Moisturiser has been a bit of a balancing act for me. Sometimes I find my face is drier (usually in winter) and requires something heavier such as the OmMade Hemp Seed Face Serum (from $34). As all OmMade's face care products are made in Adelaide they offer refills! alternatively you can bring your own (*squeaky clean!*) container to be filled. Alternatively if my face is feeling a bit on the oily side I find a light moisturising cream is all I need to avoid breaking out. I get a bulk plant derived moisturising base from Adelaide Zero Waste institution The Honey Shoppe. Add your favourite essential oil (also bought in bulk at The Honey Shoppe) to spice up your senses (mine is Rose Geranium). 
imaged sourced from ommadeorganicskincare.com
5. lips:
I always have dry lips, especially with the heat of this past summer increasing aircon use. My favourite lip hydrator is the Hemp seed oil lip Balm (from $14) from my new favourite eco cosmetic brand Dirty Hippie. These guys only sell their products in aluminium or biodegradable cardboard meaning they are completely zero waste and plastic free, what an achievement! They accept full sized empties from any Aus based customers, how cool is that! they also offer sample size products so you can test them out before investing in a full size. I use the leftover sample pots for so many things; storing safety pins, takeaway sauce pots, refilling with DIY lip-balm as Christmas Gifts etc.
imaged sourced from dirtyhippie.com.au
As always, make sure you are kind to yourself when endeavouring for zero waste. The current way our society operates can make it quite the challenge. The world doesn't need a few people doing zero waste perfectly, we need everyone doing it imperfectly. 
*featured image by Kevin Laminto